Article Summary
Cirrus has released several features, maintenance improvements and bugfixes from June 2023 to January 2023. These include Navigation in Sections, Office365 questions, Timed auto feedback for results, Improved Library management, HTTPS/TLS Security improvements and more. Additionally, they have also improved reliability with background processing health checks and advanced attempt generation. Bugfixes include UI fixes in the secondary header not showing up when logging in as well as multiple triggered webhooks for the same results.
27 June 2023 - Feature
Tbd
13 June 2023 - Maintenance
Improvements
Add navigation option to Sections in Forms - CR-19079
Give test-takers the freedom to take their exam in the order that works best for them, while staying in control of the overall exam delivery. With the new 'Navigation in sections' feature, you can allow free navigation through the exam, but limit candidates to forward-only navigation within sections. This can help test-takers build confidence by tackling the questions they feel confident about first, and help reduce anxiety and stress levels.
Improved saving mechanism Office365 questions for candidates - CR-20314
Office already had the oppurtunitty to auto save your changes, however with our new update the latest changes a candidate make will be automaticly saved uppon submitting your answers at the end of your exam, without manually submitting your answers
Bugfixes
General bugfixes on Timer per question and rational on Fileresponse/office question - CR-20498
Checkmark gets removed (if several alternatives checked quickly) - CR-20809
The link from the Dashboard to Assessments is broken - CR-20834
SLA: Reserved Maintenance Window - Sundays 03:00-05:30 AM
As part of our continual improvement and annual review, we have decided to introduce a recurring maintenance window during the time when usage of the Cirrus platform is neglible, further reduced by tailoring it to each region:

Reserved Maintenance Window
EU (incl. EU Premium): Sunday 03:00-05:30 AM CET/CEST
CA: Sunday AM 03:00-05:30 EST/EDT
SG: Sunday 03:00-05:30 AM SGT
AU: Sunday 03:00-05:30 AM AEST/AEDT
These windows are configured as AWS maintenance windows to enable regular low risk patching of some of our auxiliary services and infrastructure.
Still as regular service level cannot be guaranteed our upcoming SLA will be adjusted accordingly.
Additional disaster recovery backup in Stockholm for Premium customers
As part of our continual improvement and annual review, we have decided to set up an additional daily backup of our Premium customer's data in another EU/EEA AWS region; AWS Stockholm (Sweden).
All Cirrus backups, also for non-Premium, are already being encrypted and geographic distributed over three data centres ("availability zones") in a AWS Region. Therefore this is just an additional daily copy with a retention period of 1 day.
Our Premium SLA and List of Sub-processors have been updated accordingly.
30 May 2023 - Feature
HTTPS/TLS Security improvements - Caution!
On May 30th, as pre-announced on March 30th, Cirrus will improve the security of our HTTPS/TLS configuration [SYSOPS-643] by enabling TLS 1.3 *), besides TLS1.2, and phasing out some older ciphers. ( *) now that AWS ELB supports TLS1.3).
If your users are running a supported browser/system this should have no impact.
NOTE: In case you are using a system with outdated TLS support to call our REST API please update it, asap!
Connection test against RC api.cirrusrc.eu
On March 30th Cirrus RC has been updated to enable you to test. If your organisation does not have an RC environment your IT (or users) can still test by just doing a connection test to https://api.cirrusrc.eu (and ignoring the "404 Not found", "401 Unauthorized error" or blank page). Your test is successful as long as the connection itself succeeded.
Supported Ciphers
TLS-AES-128-GCM-SHA256 (new), TLS-AES-256-GCM-SHA384 (new), TLS-CHACHA20-POLY1305-SHA256 (new), ECDHE-ECDSA-AES128-GCM-SHA256, ECDHE-RSA-AES128-GCM-SHA256, ECDHE-ECDSA-AES256-GCM-SHA384, and ECDHE-RSA-AES256-GCM-SHA384.

NOTE: All other ciphers listed under TLS-1-2-Ext-2018-06 here will no longer work.
See also OWASP Transport Layer Protection Cheat Sheet and IT Security Guidelines for Transport Layer Security (TLS) v2.1 from NCSC-NL, guideline B2-1 to B2-4 and table 2, 4, 6 and 7 (in English).
---
Improvements:
Upgraded assessment overview + statistics- CR-20366
The upgraded assessment overview table will feature enhanced filtering and searching capabilities. Plus, you can effortlessly identify assessments that require updates, such as when items within them have been modified. This streamlined experience makes managing your assessments more efficient than ever!
You will also be able to update and publish assessments in bulk.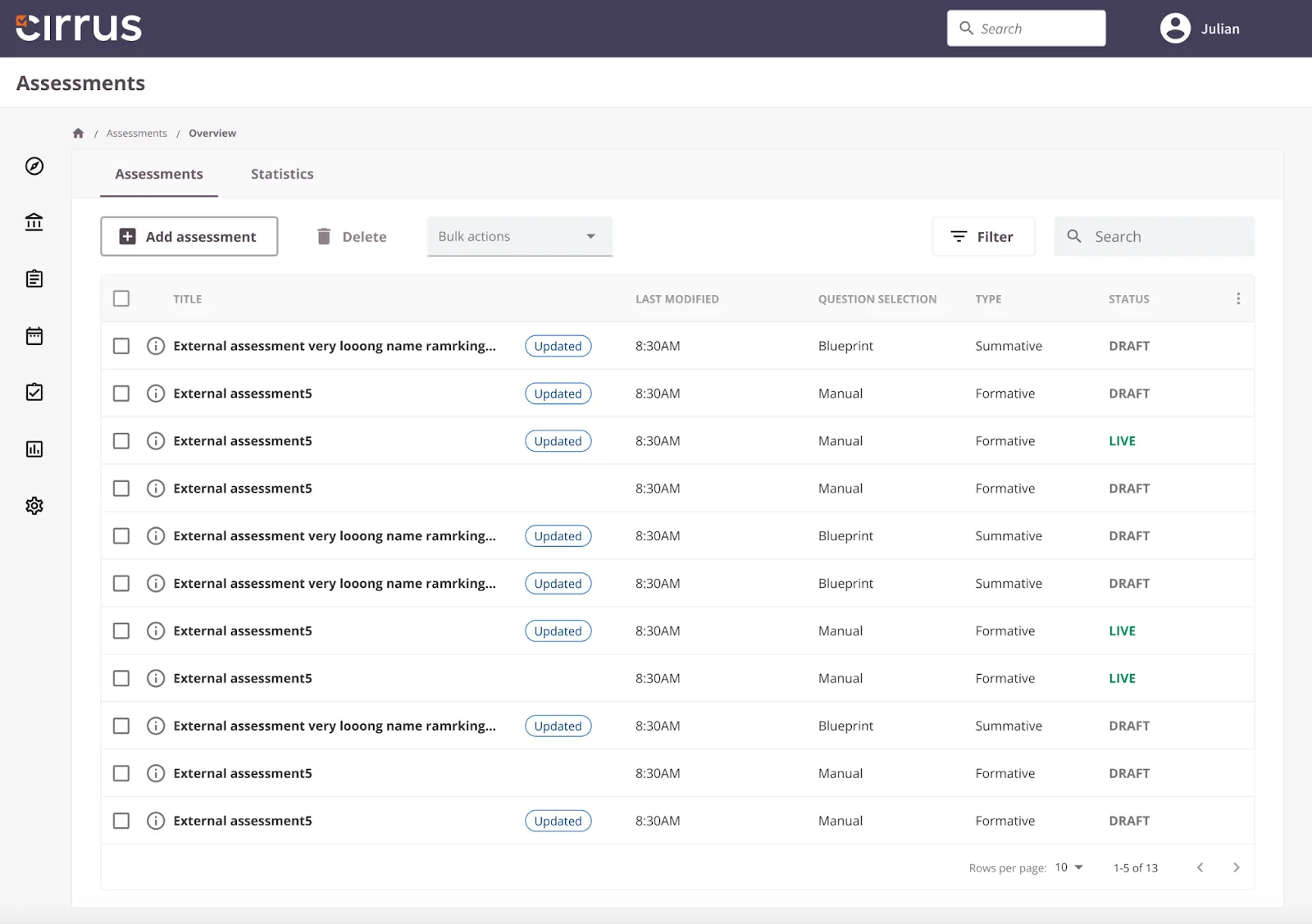 Use available assessments as Templates - CR-20053
Save time with assessment templates!
Introducing assessment templates! This handy feature allows you to build new assessments based on existing ones, rather than starting from scratch. With assessment templates at your fingertips, you'll save valuable time when crafting multiple evaluations. It's a game-changer for streamlining the assessment process!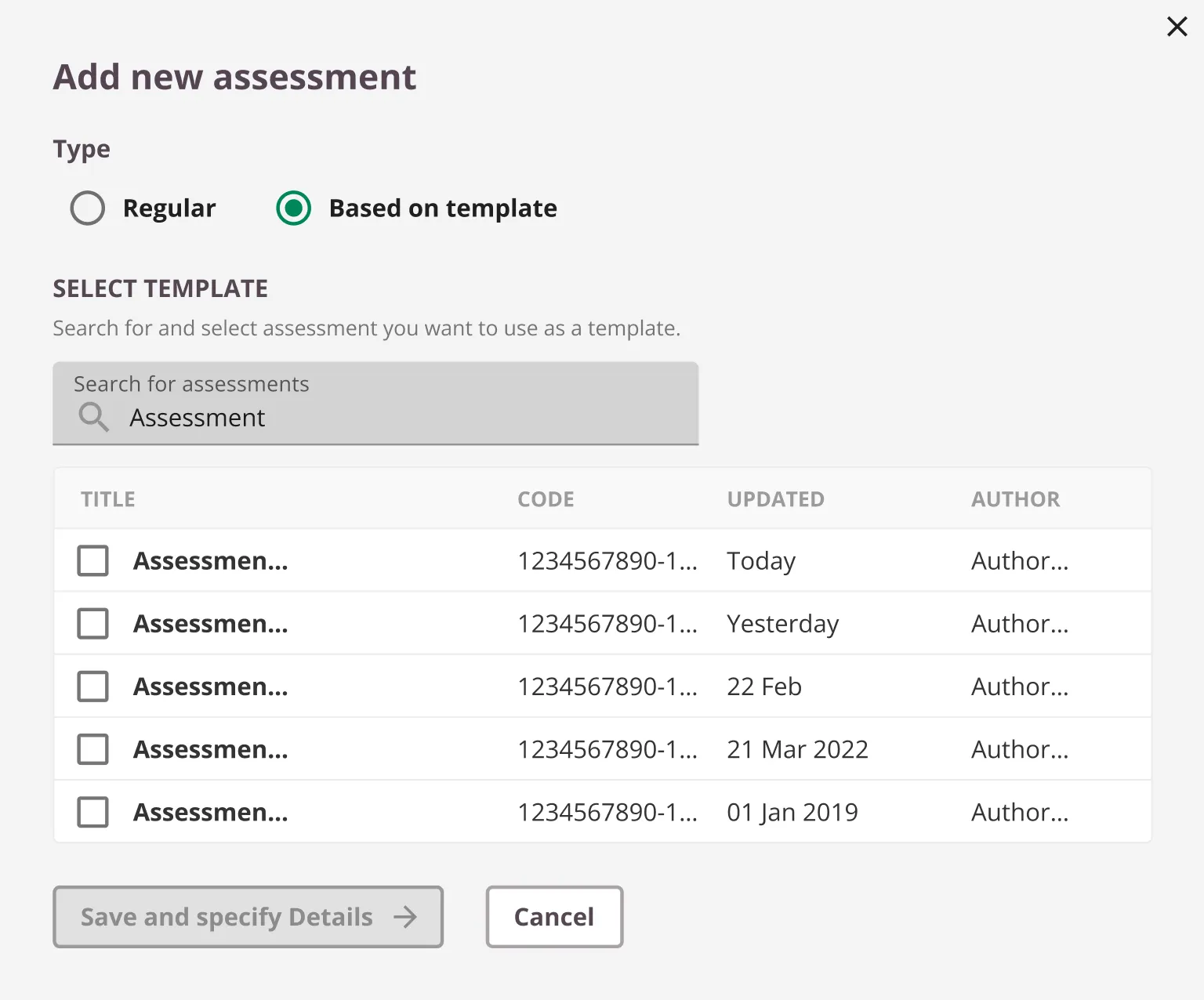 Other improvements
Reliability: Further improve background processing health check - CR-20740
Reliability: Advance attempt generation (15 minutes) - CR-20309
Bugfixes:
UI Fixes in the Improved Library (CR-19249) - CR-20409

Secondary header is not shown using login as - CR-20726
Notification overlap header - CR-20298

Results cannot be published when workflow is changed - CR-20717

Auto score schedule results cannot be found - CR-20744
16 May 2023 - Maintenance
Improvements:
Improve publish assessment dialog - CR-20073

New prases
Auto-scored option will always be visible although not able to click when using manual scored question

Rational in file response question + office365 - CR-20190
Include office365 files and rationale to the PDF transfers - CR-20191
Bugfixes:
[Marking>results>candidate overview] Disabled publish button when result can't be published - CR-20304
Cannot print score report as an author - CR-20469
---
Tightened security help.cirrusassessment.com
For security reasons you can no longer show our Knowledge Base embedded into your own website (e.g. IFRAME).
---
02 May 2023 - Feature
Timed auto feedback for results - CR-19083
Introducing a new 'assessment option'
When choosing to show any feedback when the exam has ended you can now setup a timed feedback session. Only possible when choosing the options for 'Show candidate results':
After each attempt
After last attempt
An extra option duration will be available and the max time will make sure that the candidate is directly able to see feedback after the exam for a fixed period. When time has passed, the results will no longer be available.
Of course in a later stage it's still possible to setup a candidate review session

Improvement:
Updated Safe Exam Browser versions (added 3.5.0, dropped <3.2) - CR-20450
Several further improvements of background processing for increased performance and resilience - CR-19115, CR-19119, CR-19942
Bugfixes:
Multiple triggered webhooks for the same results - CR-20071
Candidate feedback show warning if none of the users of the question item has an email - CR-20006
UI Fixes in the Improved Library (CR-19249) - CR-20408
Safe Exam Browser 3.5.0 Released for Cirrus
After the SEB team released Safe Exam Browser 3.5.0 for Windows our QA expedited their testing and we have now released SEB 3.5.0 for Windows for use with Cirrus after May 2nd.
Please download and upgrade SEB asap but no later than July 1st, 2023.
18 April 2023 - Feature
Improved Library management - CR-19249
During our Quality Assurance we identified several minor issues, which will be fixed for the 02 May release (CR-20408)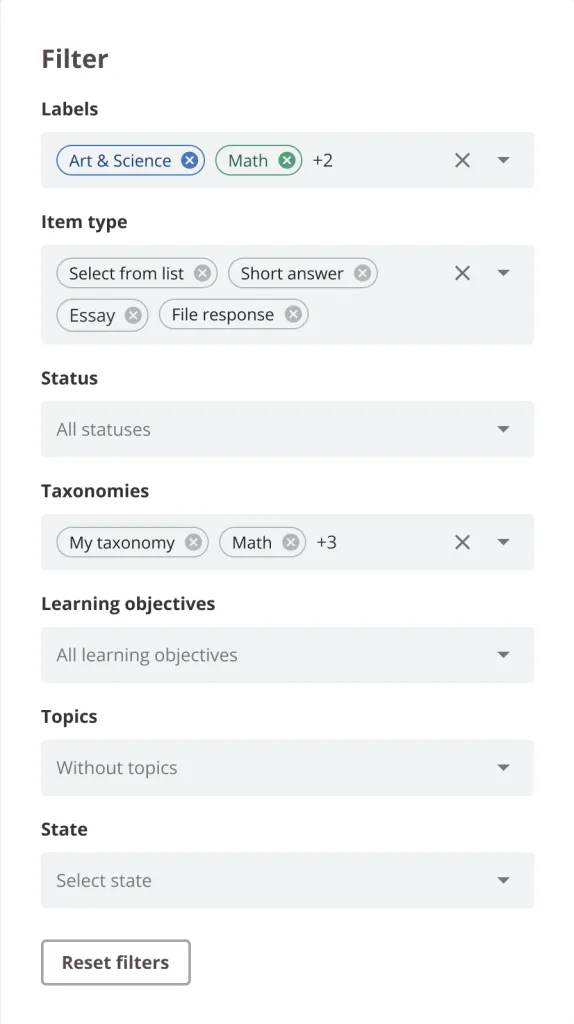 The library revamp will make it easier to organise and use items, while the new filters will give you better control and allow you to filter on a granular level.
Including:
Improved labeling management



Ensure the reliability and validity of your exams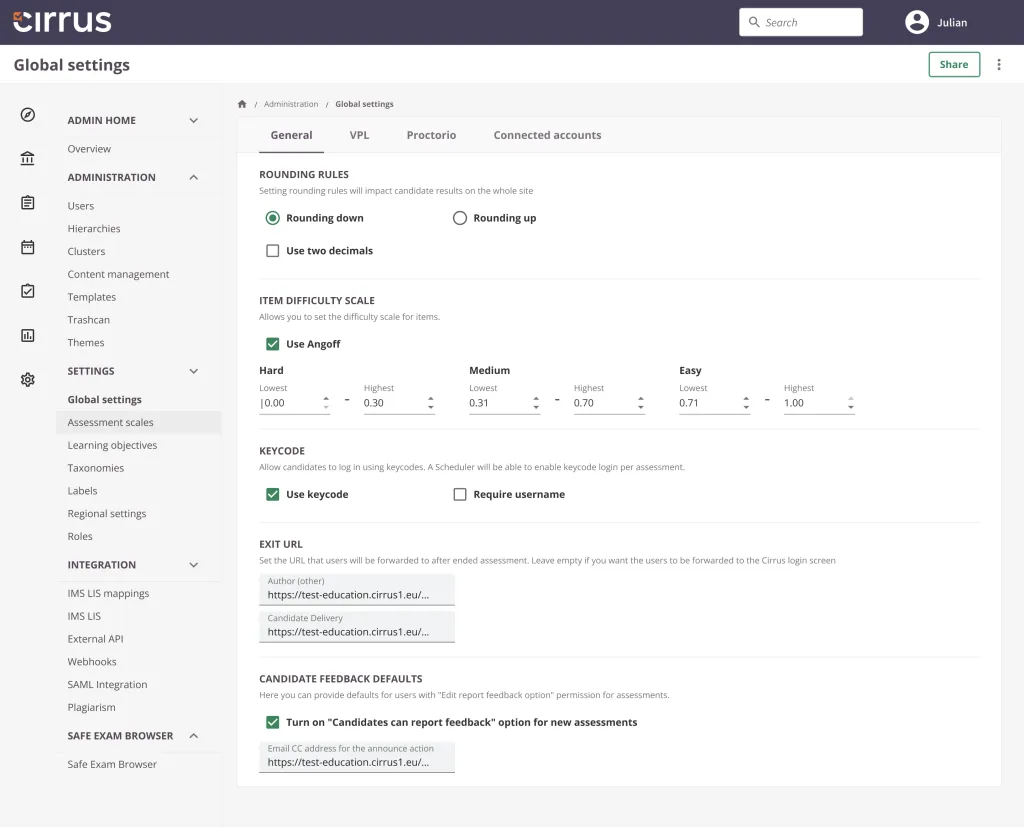 Psychometric data gives you invaluable insights into the quality of your items and helps ensure the reliability and validity of your exams. In upcoming upgrades, we will will make several quality of life improvements to the Statistics tab:
Allowing to set a time per questions in which the candidate can answer. We've added a new option in all question types (expect the mathematical question) to setup a max time allowed for the candidate to answer.


Improvements
Performance improvements to Office365 file processing - CR-20148
Bugfixes
Candidate cannot answer SFL due to resource file in very rare conditions- CR-20116
When customer URL is incorrect > incorrect page is shown - CR-20084
[Reports>Schedule/Assessment>Candidate tab] When Select all Flag for remarking is NOT applied for all results - CR-19860
4 April 2023 - Maintenance
Preliminary report didn't work in all scenario's - CR-20252
SEB Settings in assessment not copied to schedule when using API - CR-20251
[Feedback Content management] Filter perper assessment fix - CR-20133
Admin level 'labels' were not saved - CR-20114
Candidate review dialog save button wasn't always saving - CR-20113
Marking>Results>score report tab export button did not show - CR-19874
Fix on filter 'view by candidate' - CR-19867
Possible to open reveiw session page by using url - CR-20034
Review session is locked when second user - CR-19882
[Reports > Statistics] Select all checkbox is not shown - CR-19861
Notification on Marking>result is shown while it should not - CR-19845
Overview info is not shown when change PIN in active session - CR-19760
Candidate are stuck in waiting room, due to versioning assessment - CR-20332
SOWISO maintenance - 01 April 2023
Sowiso will have a maintenance on April 1st at 09:00 CET and expect to be finished by 17:00 CET. Expexted downtime will be 2-4 hours.
This only affect on who is using this mathematical question type.
30 March 2023 - RC updated for HTTPS/TLS Security improvements
To give our customers ample time to test our HTTPS/TLS Security improvements.

If your organisation does not have an RC environment your IT (or users) can still test by just doing a connection test to https://api.cirrusrc.eu (and ignoring the "404 Not found", "401 Unauthorized error" or blank page). Your test is successful as long as the connection itself succeeded.
21 March 2023 - Maintenance
Offline mode interrupted by Q43 using Heartbeat - CR-19854
Extra measures build in to be able to work in offline mode for a longer period.
Will not affect existing customers.
Creatio Integration: Safe Exam Browser (SEB) setting - CR-17178
Customers with an Creatio Integration can now control Cirrus' schedule level Safe Exam Browser (SEB) setting from inside CreatioGreen.
Bugfixes:
Excel Export review session > the order of review session is the same as in UI - CR-19781
Coordinator tab > schedul window time sensitive to DST > ST change - CR-19311
Audio files within section able to restart - CR-20101
7 March 2023 - Feature
Candidate Feedback - CR-16974
As part of their continous improvement one of our customers needed to enable their candidates to report feedback on question items during their exams.
To minimize the administrative burden, Cirrus facilitates Candidate Feedback Adminstration from within Cirrus.
Improvement:
Reliability: Improve (Result) API logging (for our support engineers) - CR-19376
23 February 2023 - Hotfix
See Hotfix on our status page.
21 February 2023 - Maintenance
Improvement:
Marking > Improved loading spinner on marking submission screen - CR-19829
Bugfixes:
When only permissions 'Delivering' and 'view candidate review tab' are ON unable to open candidate review tab - CR-19864
Older questions not showing 'criteria scoring' on candidate result page for reviewing questions - CR-19496
Clean-up/Compliance: Remove obsolete and unused Google Maps/Userguiding remnants - CR-19076/CR-19337
7 February 2023 - Feature
Turnitin support for Office365 - CR-18981
Cirrus' Turnitin integration now also supports our 'Office365 question type'.
On November 1 of 2022, we introduced a brand new integration with Turnitin for plagiarism detection in Essay questions. This powerful collaboration is now also supporting Office365 questions.
Score per alternative for MCQ - CR-18547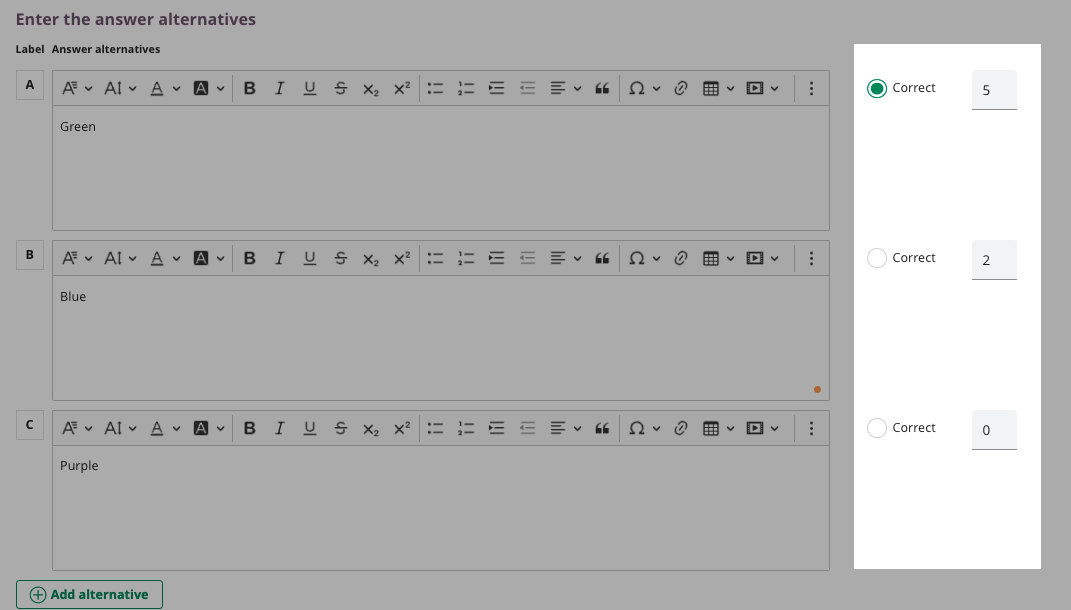 We made it possible to add a separate score per alternative in MCQ-Items, instead of only a score for the correct answer.
This enables you to add scores to other alternatives that are partially correct and thus be more flexible.
Enhanced touch screen support Virtual keyboard - CR-19395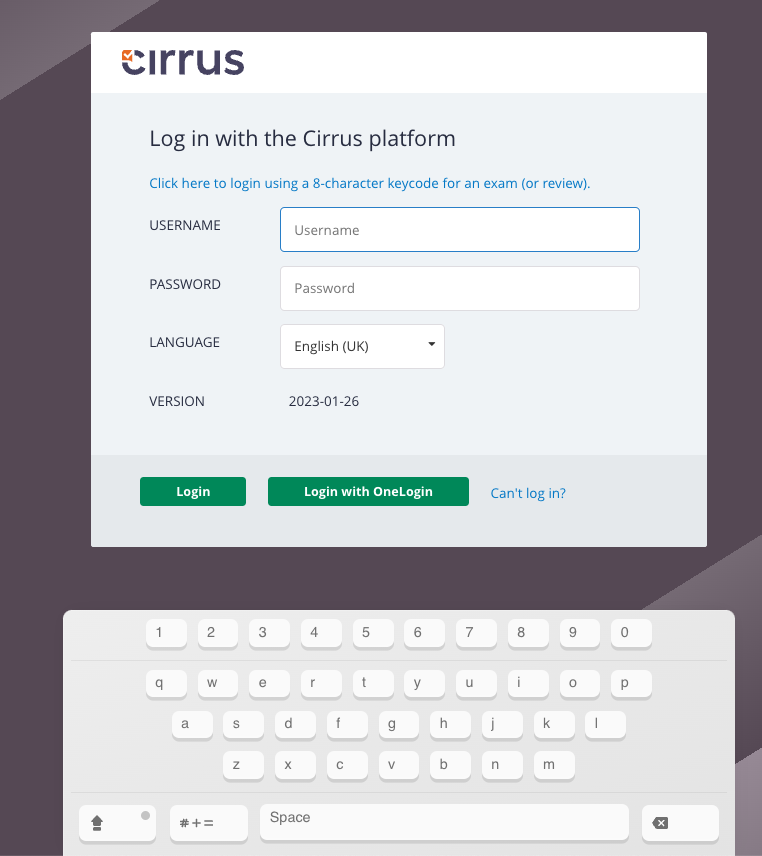 If needed, Cirrus can add a virtual keyboard to your platform, to enhance touch screen support.
By default it's NOT active and will not have any impact on your platform.
Please be aware this will not change our system requirements.
Keyboard supports:
Login (regular/keycode)
Pin code
During exam delivery following question types:

Fill in the blank
Numberic (only numpad)
Short answer
Our Servicedesk is happy to help you here in case you would like to know more.
Compliancy with respect to colours of feedback for Extended Match question - CR-19395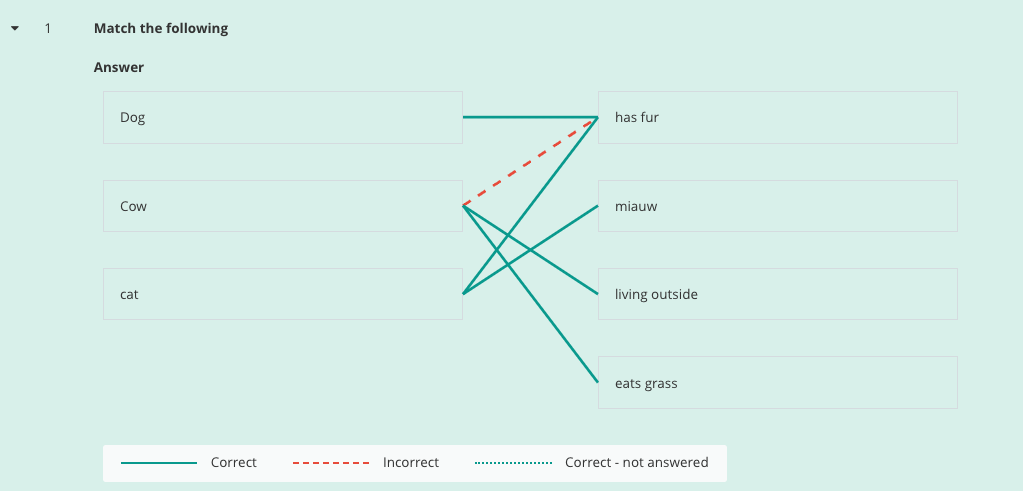 Improved the accessibility of our extended match question type by:
Adding a legend in feedback
Improving indicators to differentiate between the colours and their meaning.
Bugfixes:
Export- candidate results - Topic and LO percentage is incorrect after rescoring when change score - CR-19875
Reports > Exporting a report leads to error message for Safari browser - CR-19693
Reports > Excel Export ignores filters - CR-19093
Assessment options > Improved dialog for adding multiple hierarchies/clusters 'Available for scheduling by' - CR-19269
24 January 2023 - Maintenance
(Planned features have been postponed to February)
Improvement
Bugfixes
Upon reconnecting to exam Flagged questions appearing unflagged - CR-19158
Unable to manage clusters in admin, due to limit - CR-19223
Cannot extract reports via reports when extracting data for more multiple pages - CR-19850
For old questions the criteria scoring was not shown in candidate review sessions - CR-19857
Several Re-marking improvements and fixes - CR-19407
No Proctorio recording when login using Keycodes before starttime schedule - CR-19876
'Candidate review' sharing overview loading issue - CR-19821
Keycode reset with every keycode slip print - CR-19881
10 January 2023 - Maintenance
Improvements
Sort Topics on Score Report on alphabetical order (just like LOs) - CR-19243
Bugfixes
---
Was this article helpful?
---
What's Next