Introduction to Delivering
---
After reading this article you will know what the role of a scheduler is as well as an invigilator.
Before candidates can sit a test in Cirrus, it needs to be scheduled. When scheduling an assessment the scheduler selects which assessment to be sat, when this is taking place (schedule window) and who should take the test.
During the assessment session, the invigilator can monitor the actual session and perform actions like pausing the test, give extra time, send messages to candidates etc. For more information on the invigilator role, please see the section on Invigilation.
NOTE!
Invigilation (British English) is the same as proctoring (US English).
In this article we will look at:
Creating schedules
Monitoring and invigilating assessments
Create schedules
Scheduling a test in Cirrus allows your candidate to sit that test at a certain time. The scheduler sets up a schedule window, which defines the start and end time of the test. The scheduler can also set up a pin code that is being used in conjunction with the test. This is a good way to prevent outside users from accessing the test. The pin code is normally released to the candidates by the invigilator.
TIP!
Schedules can also be creating using our API's. This is convenient if you for example have a booking system where candidates can self-register and schedule their own assessment session.
Invigilation
The main task of the invigilator is to monitor the test-taking session. The invigilator is also able to interact with the candidates and view the logs of the candidates (how did a candidate navigate, how long did he/she spend on a question, did he/she have any issues etc.).
These are the tasks an invigilator can perform:
Pause the exam
Void a candidate attempt
Give extra time to individual candidates
Send messages to candidates
Print login details
If remote proctoring is used - view the recordings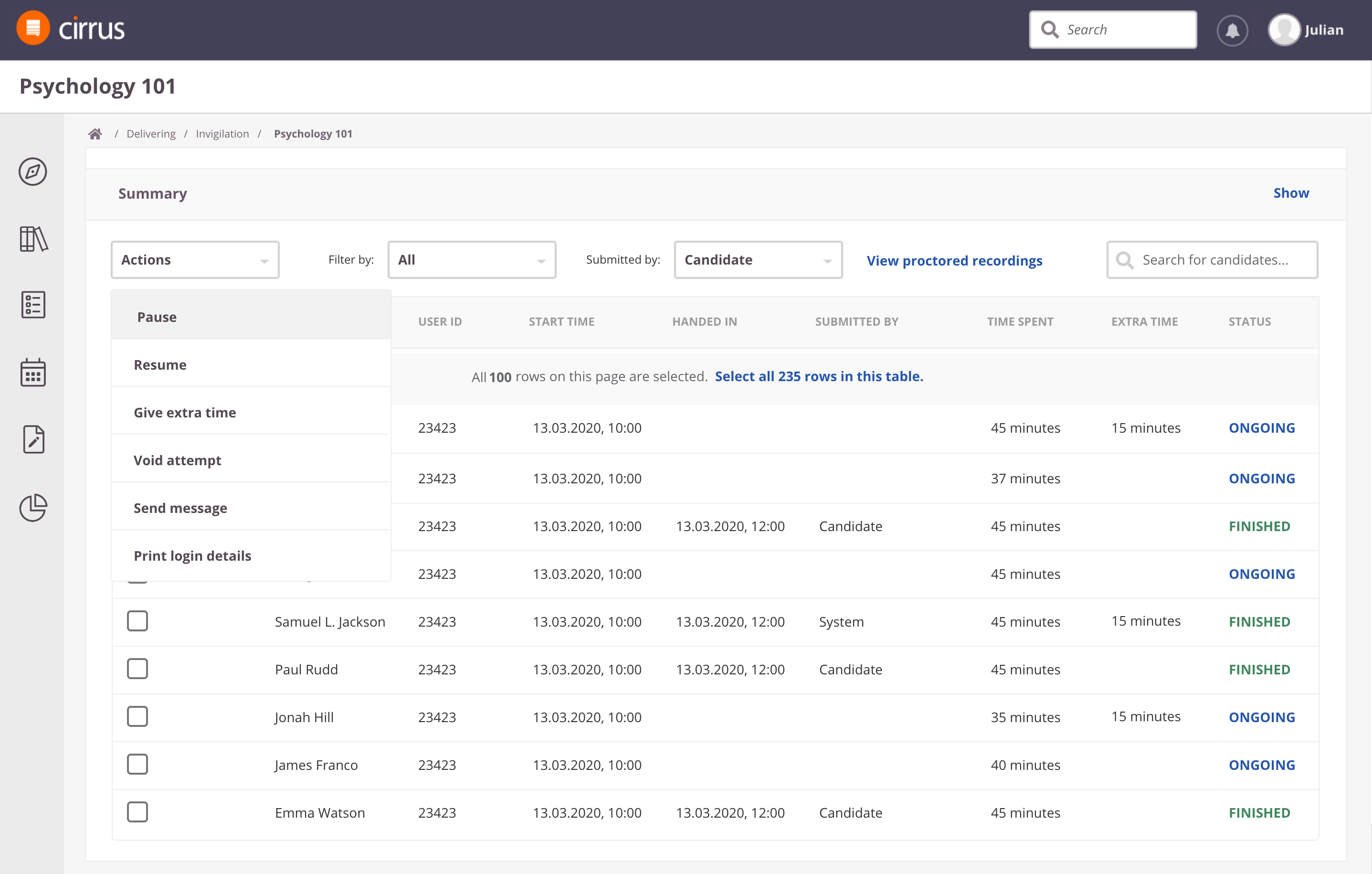 The invigilation dashboard is very useful for monitor the exam session and interact with your candidates.
---
Was this article helpful?
---
What's Next