Share feedback
Thanks for sharing your feedback!
Learn more on how to enable candidates to report feedback on questions during their exam.
Available since March 7th, 2023rd
As part of their continous improvement some organisation want to enable their candidates to report feedback on question items during their exams.
To minimize the administrative burden, Cirrus facilitates Feedback Adminstration from within Cirrus.
Report Feedback during Exam
If enabled for the assessment, a Report Feedback link is available for the candidate during the exam.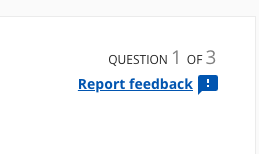 The candidate will select the Type of feedback:
Not solvable question
Spelling/typo
Feedback/Hint is Wrong
Display problem
that together with the Title (concise summary) should enable more efficient processing by your organisation of the full Feedback comment.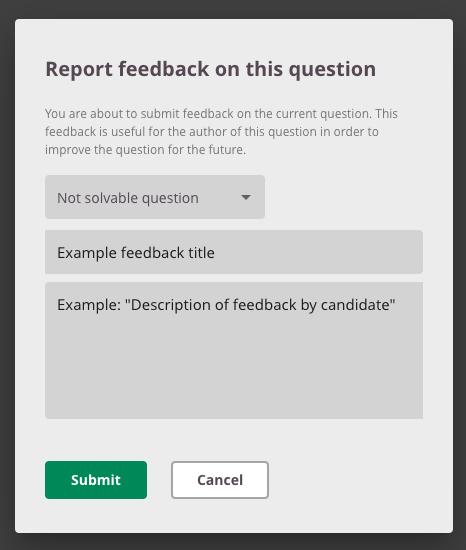 Candidates can report feedback
If your administrator has given your role the "Edit report feedback option" permission, you can toggle the Candidates can report feedback option under TOOLS of the assessment option. (If you do not have this permission this option will be disabled and greyed out).


Feedback Administration
Candidate feedback on question items is administered as part of Content Management, see Candidate Feedback Administration.
For administrators that page also contains a Set up Candidate Feedback with information how to set it up for your organisation.
---
Was this article helpful?
---
What's Next